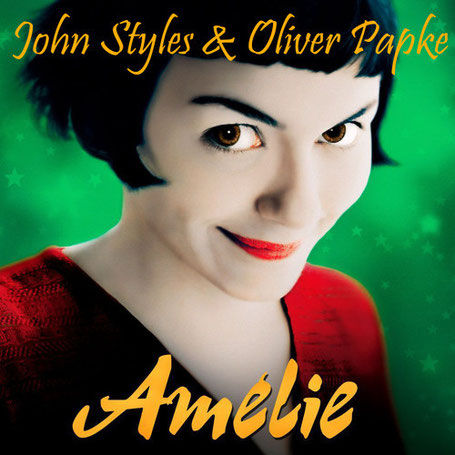 Welcome to our new release and cover of the soundtrack "Le Fabuleux Destin d'Amélie Poulain" composed by Yann Tiersen.
This was one of the first songs Oliver played on his piano, John immediately wanted to rearrange Oliver's recording, and make it longer accompanied with a complete string section.
So they started to record it all over again, they started sending tracks back and forth till they were both satisfied with it.
The fact that they both can't read notes, everything was hummed on a Dictaphone, so they could hear how it was suppose to sound like.
First the piano track was finished, then the harmonies were created (also by humming) so eventually they could be played as string tracks, this was all done by creating and adjusting midi's.
Because John and Oliver are not really midi experts, we're still learning, and a lot of things doesn't go as we hoped it would, however this piece will be done properly at a later stage too, we hope Matt Baker will join us, as he's the real midi expert, as it's very easy for us to say with recordings what we want, but how to execute, that's another thing.
We hope you will enjoy this piece just as much as we did creating it.
Composer: Yann Tiersen
Arrangement: John Styles & Oliver Papke
Piano: Oliver Papke
Strings: John Styles & Oliver Papke
Producer: John Styles
---
Related articles:
Eufonica - Cascade EP (InWinter Remix)

 Supported by:Radio Go On Air,Tempo Giusto - Global Sound Drift,djphalanx,CASW,DJ FEEL.

InWinter-Poltava (Original Mix) 

Supported by: Karanda,Suzy Solar,Richie Hawtin,Gai Barone,Shlomi Levi,SvenDeeKay,DJ SERV,Freies Radio Goeppingen e.V.,Philip Langham.

InWinter - Sun (4th Sky) [Uplifting Trance]

 Supported by : gate of paradise,Radio Go On Air,Tempo Giusto - Global Sound Drift,CASW