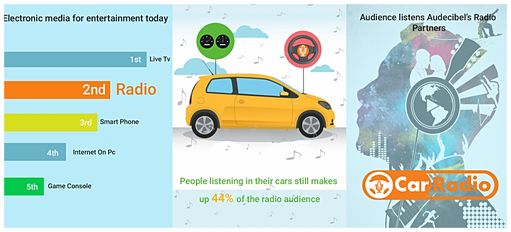 How can I listen  in my car?
Listen to avivmedia.fm in car with Audecibel!
 Listening to your favorite radio in car has never been simpler!
There are several ways in which an Audible listeners can take their favorite radio on the road with them! These include the following:
Bluetooth
If your mobile device and car support bluetooth, your radio will play through your car's speakers similar to how a phone call comes through via bluetooth. The Audible app must be open and all functionality for the radio (changing chapters, narration speed, playing, pausing, etc.) can only be changed through the Audible app on your device.
Auxiliary Input
With an auxiliary input/port, you can plug your preferred mobile device directly into the headphone jack of your car's stereo for easy listening. The cable may vary depending upon your car's specific stereo system, so refer to its manual for additional information.
Tip: If you have an iOS, Android, or Windows Phone device, this is a great way to listen in transit using this application!
How can I download the Audible app?
To begin listening, you will need to download the Audible app for your mobile phone or tablet. To find the right app for your device visit listening page  and click Get The App under your device platform.
Tip: On your mobile device? Go to How to Listen to be directed to your device's app store to download the app!
Note:Using a Fire tablet? The Audible app comes pre-installed on your device. Any Audible content you purchased can be accessed by opening the Audible app.
IMPORTANT: FIND AVIVmedia FM
---
---