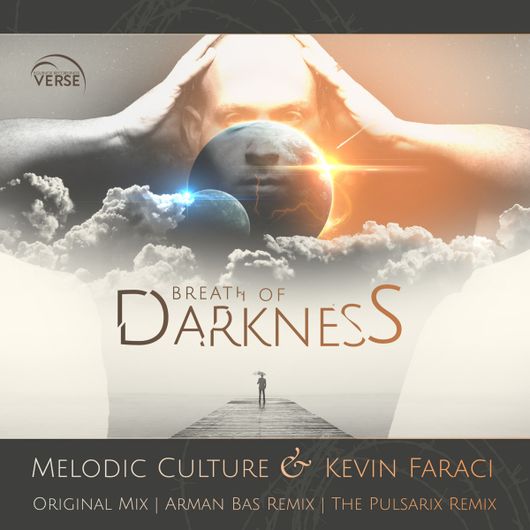 Genre - Uplifting Vocal Trance
Cast
Melodic Culture - Producer,Composer,Album Art
Kevin Faraci - Vocals & Lyrics
Arman Bas - Remixer
The Pulsarix - Remixer
Mastered by Ciro Visone Audio Mastering 
We are excited to bring you the Amazing - Breath of Darkness - from VERSE's own orchestral trance master Melodic Culture. This time he is in collaboration with the incredible vocalist Kevin Faraci, from the USA, who is a star of stage (incl.Cirque de Soleil) and excels in opera, pop, trance and other genres. We also have 2 outstanding remixes from Arman Bas and The Pulsarix.
The original has incredibly powerful orchestration and uses Kevin's amazing vocals with added harmonies to tell an epic episode in the life long struggle between the darkness and the light. 
Melodic Culture has a unique style which makes his releases stand out from all the rest. This track has huge energy. The break, build and climax are masterfully produced and the vocals are just magnificent . BPM 136
Armin Bas for his remix has a rather dark, powerful, driving intro with a strong bassline. There is wonderful calm at the beginning of the atmospheric break before the energy builds with Kevin's powerful vocals to reach a massive climax. This will be a huge favourite for your iive sets. BPM 138
The Pulsarix for their remix, true to their hallmark style, take a very different direction with a softer smoother feel to the vocals and the introduction of a great hypnotic counter melody that produces a wonderful mesmeric journey which is very different from the other mixes. BPM 138
We at VERSE are so proud to have such a massive release on our label. We know the light will always overcome and we hope that you will enjoy the battle and continue to give us your most appreciated support .
Available From Stores
Worldwide - 4th Mar 2019
Tune in: avivmedia.fm