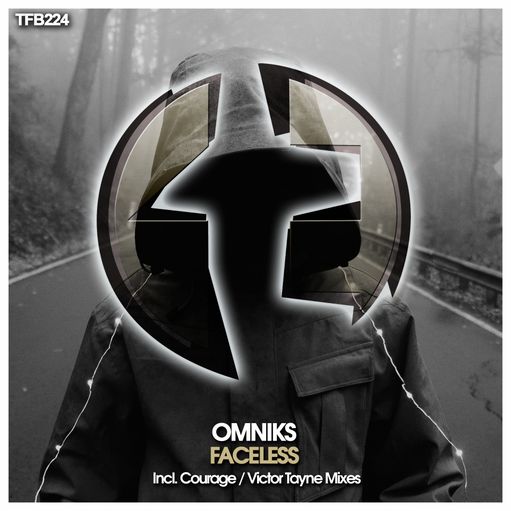 TFB Records presents its release 224th, with the amazing song 'Faceless' produced by Omniks; including original mix and two gorgeous remixes by Courage and Victor Tayne.
The original song brings a stunning dark uplifting sound, with a powerful baseline supporting the rest of the ingredients that are added to the mix as the progression moves forward. With a pretty decent intro, the breakdown comes in to release the inner soul of the song, letting the darkest ambience to surround everything. This atmosphere, brought from the heavens, makes a remarkable moment, slowly rising the melody beneath its breath performing such a sweet uplift. Omniks brings a masterpiece of an uplifter with dark sounds and some banging melodies that will break apart every dancefloor at the same time it keeps the purest essence of Trance, what a wonderful original song! Thank you Omniks for this gem!
Courage is the producer behing the first remix we can find into this release, and he has imprint quite a huge acid sound into the baseline of it. With a thick sub-bass supporting from behind, the powerful beats and this special acid taste drive the first part of the song. But, suddenly, everything is slowed down, presenting a progressive breakdown which goes from the most chilled sound to the unstoppable rush of tension, until the bomb explotes whit a shinning blast of beauty and energy. Impressive mix of sounds whithin the main part of the song, achieving such an untold level of quality. The real Uplifting is brought this time by Courage, and we just can thank him for this awesome work! Do not miss it!
Closing the release we face the remix signed by Victor Tayne, who has also bet for an agressive uplifting sound, choosing a bright sound to lead this outstanding song. The breakdown will show some alien notes, with a heavenly voice and an outer space atmosphere, it is simply a mix that you can not miss. Right after, the show starts with a perfect guitar melody, giving an extra touch to the whole mix. It is then when the tension starts rising towards its highest point, in which, the final atmosphere is built up to meet the main melody, and together they will release one of the best main parts we have recently listened. Victor Tayne with his risky bet for a different sound, has achieved a never seen before level of quality! Totally amazed by this choon!
Exclusive Release date: 25/03/2017 (beatport)
Global Release date: 08/04/2017