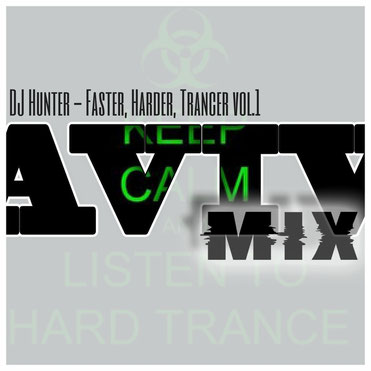 Recently added to the broadcast:
DJ Hunter - Faster, Harder, Trancer vol. 1
Tune in : www.avivmedia.fm
As I promised in #MagnificentSeven with Z Dobrej Woli, this is the time for the first part of my new series of mixes, reminiscent the history of trance music from my point of view.
The first edition focuses on my favorite trance/hard trance tracks from the 2001-2004.
I hope it will be for all of you an interesting suggestion and inspiration for this year's holiday :) 
I hope you will like it my new series! (c)DJ Hunter
TRACKLIST:
01. MEGARA Vs DJ LEE - Human Nature (Damaged Intro Mix) [Cuepoint Records]
02. DuMonde aka JamX - Let Me Out (Alphazone vs. Ralph Novell Mix) [Fate Recordings]
03. Cosmic Gate - Cosmic Gate - The Truth (Original Mix) [EMI Electrola]
04. DJ Shog Official - The 2nd Dimension (Original Mix) [Drizzly Music]
05. Dumonde aka De Leon - Kalt (Talla 2XLC [Fate Recordings]
06. Alphazone - Revelation (Original Mix) [Waterworld Records]
07. DJ L.U.K.A. - I Found Peace (Original Vocal Mix) [F+Plus]
08. Dee Dee Official - Forever (Megara vs. DJ Lee Remix) [EMI Electrola]
09. Showtek pres. Walt & Feliz - Endless (Original Mix) [Fusion Records]
10. Jurgen Vries - The Theme (DuMonde Remix) [Direction Records]
11. Megara vs. DJ Lee - Full Intention (Club Mix) [EMI Electrola]
12. CJ.Stone.Official - Don't Look Back (Energy Vocal Club Mix) [All Around The World]
13. Marc Aurel - The Sun (DuMonde Remix) [Trigger Records]
14. YOMANDA - You're Free (Frank Trax vs. O.R.G.A.N. Remix) [Tempo Music]
15. Kyau & Albert feat. Damae - Velvet Morning (Megara vs. DJ Lee Remix) [Club Culture]
16. Marc Et Claude feat. Tony Hadley - Feel You (Wippenberg Remix) [Alphabet City Records]
17. Noémi (Dance Singer) - Y.O.U. (Green Court Mix) [JIVE Records]
18. Van Der Karsten - C.R.Y. (Club Mix) [Aqualoop Records]
19. 19. Ultrabeat - Better Than Life (Voodoo & Serano Remix) [All Around The World]
20. jessy - Look At Me Now (Apollo Remix) [Ministry of Sound]
21. 666 - Rhythm Takes Control (Noemi 'Fly With The Beat' Mix) [House Nation]
22. 4 Clubbers - Children (Future Breeze Music vs. Junkfood Junkies Mix) [Alphabet Classix]
23. Blue Nature - Love Or Die (DJ Shog Remix) [ANKH Records]
24. Dance Nation - Words (Bradski & Jenski Extended Edit) [Dance Jive]
25. Fragma Official - Time And Time Again (Megara vs. DJ Lee Remix) [Gang Go Music]
26. DuMonde - God Music (Cosmic Gate Mix) [Superstar Recordings]
27. Wavetraxx - Das Boot (Club Mix) [Planet Traxx]
28. Liquid Spill - the official Fanpage - Keep Turnin' Around (Extended Mix) [Creativ Records]
29. Ian Van Dahl - Reason (DJ Shog Remix) [Dos Or Die Recordings]
30. Axel Coon - Lamenting City (Club Mix) [Aqualoop Records]
31. 666 - Insanity (Megara vs. DJ Lee Remix) [House Nation]
32. DJ Shog - Live 4 Music (Alex Megane pres. Cosmic Culture Remix) [Logport Recordings]
33. CJ Stone - Into The Sea (Green Court Remix) [Kontor Records]
34. DuMonde - Never Look Back (Tiësto Full On Vocal) [Superstar Recordings]
35. ATB - Let U Go (Wippenberg Remix) [Kontor Records]
36. Rocco - Generation Of Love (Walt & Feliz Remix) [Aqualoop Records]
37. DJ Dean Fanpage pres. Barbarez - Planet Earth (Dj Merlin & C-Bass Hardbass Injection Remix) [Tunnel Records Germany]
38. THE HITMEN pres. Lagoon - Cosmic Ray (Club Mix) [Cuepoint Records]
39. Cappella - U Got 2 Let The Music (DJ Shog Remix) [ZYX DE / AT / CH]
40. Talla 2XLC - Can You Feel The Silence (Club Mix) [Club Culture]
41. Marc Et Claude - Loving You '03 (Apollo Remix) [Positiva Records]
42. Terence feat. Pit Bailay - Love Message (Extended) [Sunnyside Up Records]
43. Rank 1 - It's Up To You (SymSonic) (DuMonde Remix) [Be Yourself Music]
44. Walt & Feliz - Expansion (Original Mix) [Silicon Recordings]
45. scot project - L (Want Your Love) (B-Side Mix) [Overdose Recordings]
46. Megara vs. DJ Lee - The Megara (Original Mix) [Cuepoint Records]
47. Airheadz - Stanley (Here I Am) (Wippenberg Remix) [Dos Or Die Recordings]
48. Chemistry - Desire (DJ Shog Remix) [Cuepoint Records]
49. DJ Lee - X-Perience (Club Mix) [Aqualoop Records]
50. Megara vs. DJ Lee - Hold Your Hands Up High (Club Mix) [EMI Records]
---