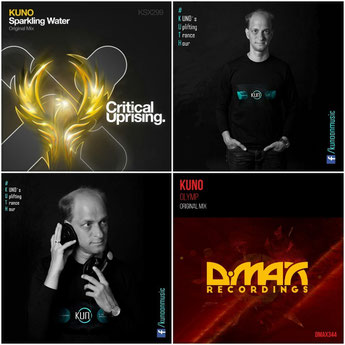 god is a dj. –I– KUNO´s creative intention tries to live up to this motto. nothing in the world is more capable of bringing mankind together peacefully like music is. nothing has a better way to interact with people and to let them connect with each other. for KUNO music is the base for harmony, the reason of getting together and the expression of joy of life in general. music makes people overcome differences in point of view, religion, language, skin color and sex.
KUNO´s passion for electronic music –I– began early in the aera of "eurodance". of course he was influenced by almost countless visits of events like the loveparade, trance energy and asot. thoughout times he developed especially a passion for the section "uplifting trance". 
KUNO is a german DJ and producer. –I– He deliveres a weekly podcast and radioshow which is called "KUNO´s Uplifting Trance Hour (#KUTH)". KUNO almost explicitly puts the latest uplifting trance tracks into his sets, sometimes added by single euphorical, emotional and even techy trance tracks as well. His mixes are aired all over the world and can be found on all well known social medias. 
KUNO´s two first releases "Sparkling Water" and "Olymp" both became a no-1-hit in the over-all-trance-charts at trackitdown. 
Please checkout my released tracks:
⦁ Olymp (Original Mix): https://goo.gl/cWPaOb
⦁ Sparkling Water (Original Mix): https://goo.gl/23eUap
for more information feel free to visit –I–
http://www.facebook.com/kunoonmusic
http://www.soundcloud.com/kunoonmusic
http://www.mixcloud.com/kunoonmusic
http://www.hearthis.at/kunoonmusic
http://www.youtube.com/kunoonmusic
http://www.twitter.com/kunoonmusic
For booking requests and promos –I–
⦁please get in touch with KUNO mailto:⦁kunoon@gmx.de