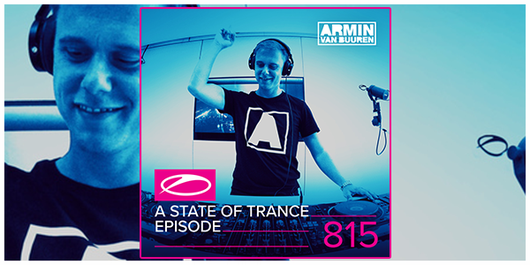 Again, this episode of A State Of Trance is one filled wih suprises!
Armin van Buuren makes a special announcement and Alexander Popov teams up with Armin's borther Eller.
And if that's not great enough, there is also some new music from Super8 & Tabto to listen to. All of that and more, you'll find in episode 815!
TRACKLIST
A STATE OF TRANCE - EPISODE 815
Above & Beyond feat. Justine Suissa – Alright Now [Anjunabeats]
TUNE OF THE WEEK: Super8 & Tab feat. Jonny Rose – Falling Into You [Armind]
Genix – 6 AM Saint [Anjunabeats]
Alexandre Bergheau – Summer's Gone (Yoel Lewis Remix) (Taken from A State of Trance 2017) [Armada Captivating]
Alexander Chekomasov – Moment [Suanda]
PROGRESSIVE PICK: Kaion & Medii feat. Micah Martin – The One (Eskai & Kaion Progressive Mix) [Ride]
Markus Schulz pres. Dakota feat. Bev Wild – Running Up That Hill [Coldharbour]
Bobby Neon feat. Lokka Vox – Regrets (Double V Remix) [Genesis]
Ruslan Radriges & Cari – Follow The Sun [Statement!]
FUTURE FAVORITE: Way Out West – Mindcircus (Hazem Beltagui Melo Bootleg)
TRENDING TRACK: Armin van Buuren – Mirage (Assaf Remix) [Armind]
Alexander Popov & LR – Clarity [Armind]
SERVICE FOR DREAMERS: Arksun – Arisen [Armind]
Neelix – 1000 Sterne [Spin Twist]
Adam Ellis & Fenna Day – What Makes Your Heart Beat [Amsterdam Trance]
Cold Stone – Planet X [Digital Society]
Illitheas – Shine (Club Mix) [Abora]
Scott Bond & Charlie Walker vs Trouser Enthusiasts – Sweet Release [WAO138]
Stine Grove – Against The Flow (Astuni & Manuel Le Saux Re-Lift) [Pure Trance]
Ton TB – Electronic Malfunction (Paul Denton Remix) [Outburst Records]
Alex M.O.R.P.H. & Eric Lumiere – Heart Of Life (Skylex Remix) [Vandit]
DT8 Project – Destination (James Dymond Remix) [WAO138]
Armin van Buuren feat. Ray Wilson – Yet Another Day (UCast Remix) [ASOT]
Arctic Moon – Nocturnal [FSOE]
Megamind – Taub (Mark Sherry Remix) [Outburst]
Ben Nicky – Cobra [WAO138]
Assaf feat. Nathan Nicholson – Lost Souls (Radion6 Remix) [Black Sunset]
Armin van Buuren feat. Christian Burns – This Light Between Us (Live from The Best of Armin Only) [Armind]