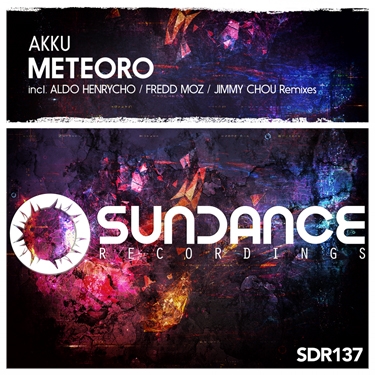 Producer: Akku
Remixer: Aldo Henrycho, Fredd Moz and Jimmy Chou
Genre:  Uplifting Trance
Catalog #:  SDR137
Official Release: 12th June, 2017
Fast rising DJ Producer Akku slammed his way onto Sundance Recordings with the absolutely huge track 'Meteoro'!
The Original Mix is a sure fire show stopper from start to finish. Floor flexing drum patterns and white hot bass lines underpin the mix throughout, whilst the supercharged breakdown chords and intense builds ensure ultimate floor damage on the drops every time!
First up on the remix duties, Aldo Henrycho is at hand to twist the mix towards the darker edge of the spectrum with furious bass lines and fueled synth lines, heavyweight atmospheres and floor rocking drum rhythms providing the energy!
Not to be outdone, Fredd Moz takes to the faders of 'Meteoro' and tears the mix into full scale uplifting 140 territory with another no nonsense injection of supercharged percussive rhythms, floor warping bass lines and crowd pleasing leads that will keep the floor fully fired up throughout.
Jimmy Chou seal the release perfectly with another masterclass production. Twisting the mix into fresh new territory with overblown drum breaks and sub smoking basses providing the damage, before Jimmy Chou delivers a real crowd pleaser that keeps the action sky high from start to finish with hair raising melodies and high flow energy at it's very finest!