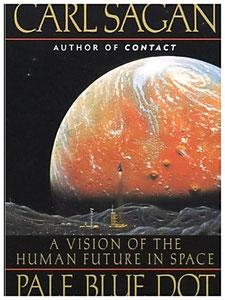 Spoken Text by a Visionary and a Great Human Being, Carl Sagan, Circa 1994.
Audio as spoken by Carl Sagan himself from his famous writing "Pale Blue Dot" and available in audiobook format and text here and many other online bookstores:
www.amazon.com/Pale-Blue-Dot-Vis…ure/dp/0345376595
NASA Recordings from Apollo 8 mission to the moon, in the official X'Mas eve transmission from the moon's orbit to the people of Earth with text from the book of Genesis read by the 3 Astronauts on board.
Apollo 8 was the first ever manned spaceflight mission to leave Earth's orbit back in Dec 21, 1968 and NASA's second attempt at interplanetary travel. What a triumph for humanity it was!
NASA Audio Recordings are Public Domain.
Original Music by Cern, released in 2003 on Gareth Emery and Alexis Hooper's label Five AM based in UK, with a double sided 12" vinyl pressing seeing 2 variations, the "Northern Mix" and "Southern Mix" as A and B side respectively.
It was later licensed to A State of Trance / Armada Music in 2004 and massively syndicated.
Original Mix on ASOT radioshow saw Future Favourite. (or TuneOfTheWeek, or both, can't remember but highly regarded as an undoubtful classic in 2003.)
Rework Credits:
First rework by Arrakeen in 2014 built from ear and own instruments. No Midi, No presets.
Revised with improved mixdown in 2015 in "2015 Revision". Saw multiple CDR features on Uplifting Only radioshow by Ori Uplift of Abora Recordings.
Reprised here in a third rework (as classics NEVER die) with true meaningful text in 2017 and for non-profit hopeful harmony of mankind as Carl Sagan and the Apollo Astronauts and the once promising NASA foundation once was before greed ultimately crushed creation and exploration.
"This human quality will never die, suppress it as Governments or those in power, dominating, or whom of which seek control of the Will and Rights of others for their own agendas may, but the innate yearning to create, explore and thrive, and all toward a superior evolutionary understanding will ultimately prevail... I just hope it doesn't take two Extinction Level Events to realize this...
...We all have it in ourselves to make change. Don't look outwardly for a saviour... Look within... Change starts with each of us."
-Arrakeen