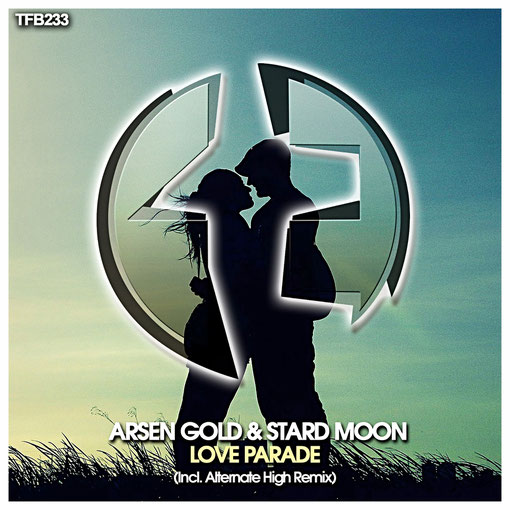 TFB Records brings the new song produced by Arsen Gold & Stard Moon, 'Love Parade', as its release 233rd; including the original mix and a wonderful remix by Alternate High.
The original song carries out a powerful sound lead by its bassline, but also enhanced by an early melodic progression. We will fall into the breakdown soon, and will be surrounded by a very soft atmosphere on which a subtle melody is built. Right after, and adding a lot of acid into the mix, the melody starts rising with energy and putting so much pressure. It ends up exploting with a blinding wave of sound, welcoming the bassline again into the mix, and surfing with ease the beats in order to realese its whole uplifting soul. With this melody,
Arsen Gold & Stard Moon have reached a high emotional feeling, but keeping a subtle character into the mix, so this song comes out to be a delightful upliter!
Alternate High is the producer behind the remix included into this release, and he has kept most of the original character of the song, adding more beautiful ingredients into the initial progression and letting the bassline to support from behind. The epic and emotional taste of this song is quite higher than the original, and it is soon noticed but, whith the breakdown, we will feel the real inmersion into a vast peaceful ocean of purity and beauty. With such a wonderful mystic and soft atmosphere and so incredibly clear notes, this break goes deep into our minds to reveal some of our long time hidden emotions. It is the magic of Trance music, and Alternate High has taken it to an untold level. Get ready for the climax because the journey doesn't finish and will keep you flying high until the end of the song. A flawless gem!
Exclusive Release date: 31/05/2017 (Beatport)
Global Release date: 14/06/2017