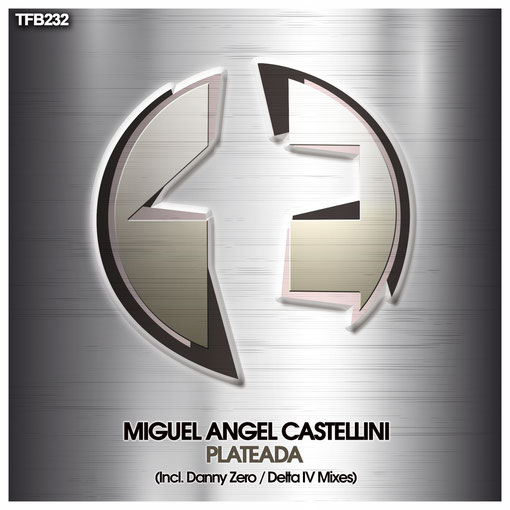 TFB Records presents its release 232nd with the amazing song 'Plateada', produced by Miguel Angel Castellini; including original mix and two great remixes by Danny Zero and Delta IV.
Starting with a surprising energy, the original mix ride us through a very unique uplifting journey within its initial progression. It is only when the first glances of the melody appear when we start experiencing the delighful sensation of being surrounded by a magical atmosphere. This feeling comes with us until we fall into the breakdown, where a rush of beauty if finally released and all the inner soul of the song comes out performing such a wonderful melody and ambience. Keeping this magic up, we enter into the unstoppable rise of tension, which soon explodes with a blinding light of purity and let the bassline to meet the beauty of the melody. From here till the end the mystic taste will be fully present and the uplifting feeling will surround us until the end. Marvelous song by Miguel Angel Castellini.
Danny Zero is the producer behind the first remix of this release, and he has brought to us a great uplifter with a higher energy within its bassline. This power is highly noticed since the beginning and, together with some remarkable acid sounds, helps on developing such an incredible initial progression. When we reach the breakdown, a stunning epic sound takes us into a special journey, in which we will discover the true character of the song. Right after it, and imprinting a huge amount of tension into the mix, everything rises until the bassline is fusioned with the main lead and the climax explotes with a gorgeous spread of sound! Marvelous remix by Danny Zero, do not miss it!
The second remix included into this release is the one produced by Delta IV, an unstoppable producer who is achieving more and more goals with his authentic sound. This time, he presents a quite dark essence within the bassline, taking the soul of the song deep into the ocean. This sensation is then countered with the appearance of an ultra light and bright melody, which applies so much contrast to the mix, enhancing it by tons. The breakdown comes progressively, and after fading out all the sounds, a master melody, full of magic and subtle piano notes, throw an untold amount of pure mystical essence. After such a shocking moment, we will have no time to react to the coming uplift and the following climax, so you better be prepared to receive a huge rush of emotions right into your heart when listening to this masterpiece!
Exclusive Release date: 23/05/2017 (Beatport)
Global Release date: 06/06/2017