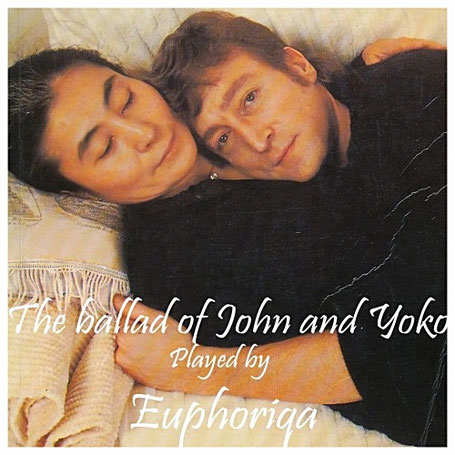 We hope you'll enjoy our cover and tribute to John Lennon on his song "The Ballad of John and Yoko"
History behind "The Ballad of John & Yoko":
Although The Ballad of John and Yoko is registered in the name of Lennon-McCartney, most of the song is written and composed by John Lennon. The text of the song is an autobiographical account of recent events in the life of John Lennon and Yoko Ono.
The first verse of the song refers to the attempts by Lennon and Ono to get married on a ferry in the English Channel. Arrived in the port of Southampton, there appeared to be problems with Ono's passport and appeared to be allowed to join the captain no marriages ferry lake.
The second verse describes Lennon and Ono then decided to travel to Paris. There they received a call from assistant Peter Brown who told them that they could get married on the peninsula Gibraltar. They flew to the peninsula and there were married on March 20, 1969. None of the other Beatles were also present.
In the third verse describes how Lennon and Ono at the Amsterdam Hilton hotel held a so-called bed-in. They spent the period 25 March to 31 March by their bed in room 702. From 9:00 am to 9:00 pm, they spoke with the media and tried in this way to get attention for world peace.
In the Amsterdam Hilton hotel Lennon and Ono held a bed-in for peace.
After that Lennon and Ono flew to Vienna, where their third film Rape was on Austrian television premiere. This was described in the fourth couplet. In Vienna they gave at the Sacher Hotel a press conference in a bag. This because they wanted to draw attention to stereotyping and prejudice:. If everybody would go into a pocket for an interview with his head, people would just only on the basis of their qualities are evaluated. They called this Bagism.
In the final verse describes how Lennon and Ono return to England and send acorns to 50 world leaders.
The song was recorded on April 14, 1969 at Abbey Road Studios in London. In this session were only John Lennon and Paul McCartney provided. George Harrison was abroad on holiday and Ringo Starr working that day at the shooting of the film The Magic Christian.
There was that day 11 takes of the backing track set, which take 10 was the best. Paul McCartney played the drums take, Lennon played lead guitar and sang the lead vocal, McCartney bass guitar, piano and backing vocals and lead guitar twice and once added to this acoustic guitar backing track by Lennon.
Although there was a lot of tension in that period between Lennon and McCartney, which influenced the atmosphere during shooting day. There was even room for some jokes. Between exposures Lennon told the drumming McCartney, "go a bit faster, Ringo!" Which McCartney said Lennon playing the guitar with "OK, George!"
Starr and Harrison had apparently no problem with them not played a role in the new single. Ringo felt good drumming was on The Ballad of John And Yoko and George said he had only objected when the song The Ballad of John, George and Yoko had been called, and they all agreed the song would be released by The Beatles.
Although we already released another version: Onevision-crossworlds – John-styles-age-r-ballad-of almost 4 years ago, Hemmo and John decided to record all tracks all over again to get a better quality of sound, we hope you all think we've accomplished that.
Composer & Writer: John Lennon
Euphoriqa line-up:
Arrangements: John Styles & Hemmo Riihelä
Hemmo Riihelä: Lead & backing vocals, All (Bass, acc, elec, rhythm and solo) Guitars and Drums
John Styles: Backing vocals, Piano, Synth and Keyboard
Producer: John Styles
Your comments, advices and critics are very much appreciated as always, cheers John and Hemmo.
---